Guest Accommodations
Dakota Edinburgh
Ferrymuir, Queensferry, South Queensferry EH30 9QZ, UK
+44 131 319 3690
Check-in:
August 28th, 2020 |
Check-out:
August 30th, 2020
Rate:
135
135 GBP per Classic Double Room, per night, bed and breakfast. Please call +44 (0)131 319 3690 or email reservations@edb.dakotahotels.co.uk to make the reservation directly. Shuttle to be provided to and from the wedding. Room block rate will expire 6 weeks prior to the wedding. Located approximately 1 mile from Dundas Castle.
Premier Inn Edinburgh (South Queensferry) hotel
Builyeon Rd, South Queensferry EH30 9YJ, UK
+44 333 777 4683

No room block here, but we will arrange for a shuttle to and from the wedding.
Apex Grassmarket Hotel
31-35 Grassmarket, Edinburgh EH1 2HS, UK
+44 131 300 3456

No room block here, but we will arrange for shuttle service from the Grassmarket area of Edinburgh if needed. Grassmarket would be a great base to explore Edinburgh and is a lively area, close to the castle and home to a multitude of restaurants and bars. Apex have two hotels in the Grassmarket, both of which are clean, comfortable, modern hotels with all the amenities you would expect.
Apex City of Edinburgh Hotel
61 Grassmarket, Edinburgh EH1 2HJ, UK
+44 131 243 3456

No room block, but as described in the details for the Apex Grassmarket Hotel.
The Balmoral
1 Princes St, Edinburgh EH2 2EQ, UK
+44 131 556 2414

No room block. This is an iconic 5-star hotel in the center of Edinburgh for anyone that wants to go big! Beautiful hotel, with a great restaurant and bar. Hotel is adjacent to Waverley train station.
Things to Do
Edinburgh Castle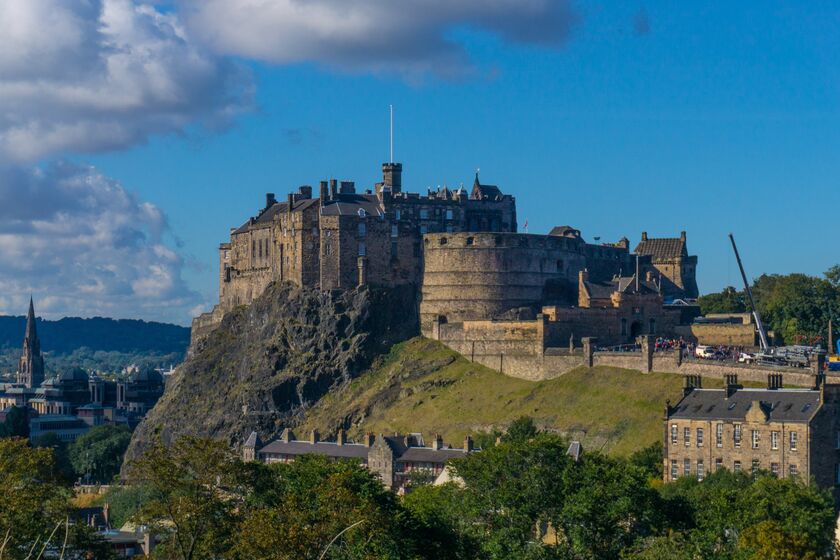 Castlehill, Edinburgh EH1 2NG, UK

Scotland doesn't lack castles and this one happens to sit in the middle of the capital city. Tough to miss it.
The Real Mary King's Close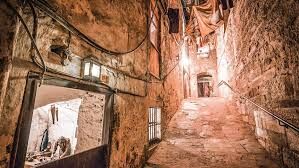 2, Warriston's Close, High St, Edinburgh EH1 1PG, UK

Edinburgh is really, really old and with age comes skeletons in the closet. One of the more sinister things you can do in Edinburgh is tour through the underground streets underneath the Royal Mile where during the great plague the city bricked up the street, developed over it and left the inhabitants to die. It also rains sometimes in Edinburgh, so this is a great indoor activity!
Greyfriars Bobby's Bar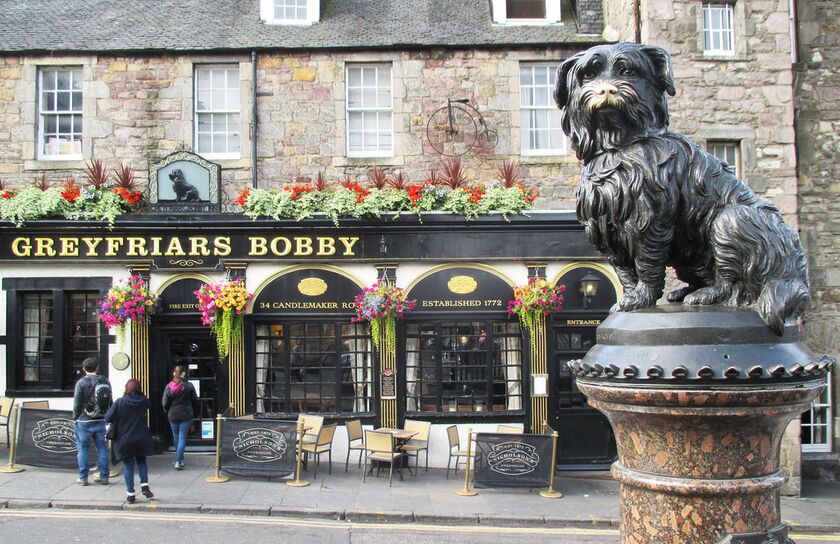 30-34 Candlemaker Row, Edinburgh EH1 2QE, UK

Greyfriars Bobby was a Skye Terrier (dog) that sat guarding his masters grave (in the adjacent Greyfriars Cemetery) for 14 years. Cool little statue of him and a bar if it rains.
Arthur's Seat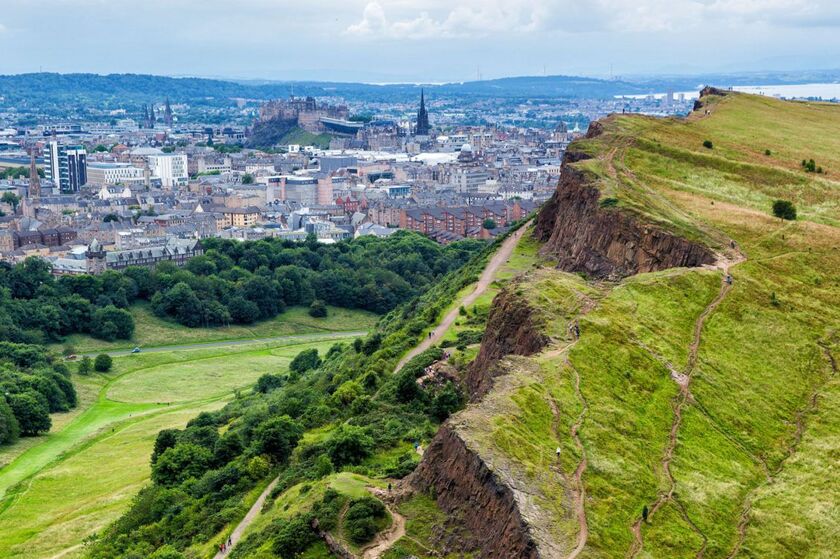 Arthur's Seat, Edinburgh EH8 8AZ, UK

Arthur's Seat is an extinct volcano that overlooks Edinburgh. It is a great hike about 1 mile east of Edinburgh Castle. It is easily reached from Holyrood Palace (Queen's official residence in Edinburgh, located at the bottom of the Royal Mile) through Holyrood Park. For an easier climb you can just walk up and along the Salisbury Crags (the cliffs around the hill). The climb gives you great views out of Edinburgh and the River Forth.
Calton Hill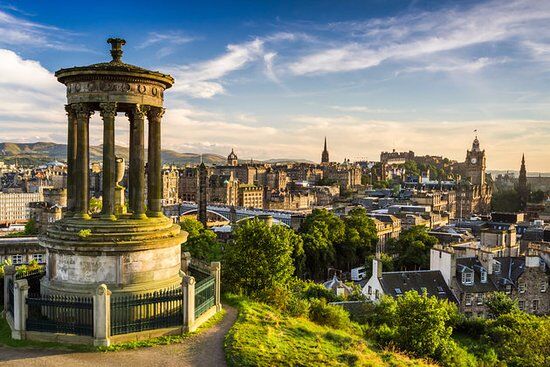 Calton Hill, Edinburgh EH7 5AA, UK

If you only take one Insta shot in Edinburgh it should probably be from the top of Calton Hill. An easy walk from Princes Street in the city center, Calton Hill has for my money the best view of the city for the least amount of walking. Lots of cool monuments, etc.
Princes Street Gardens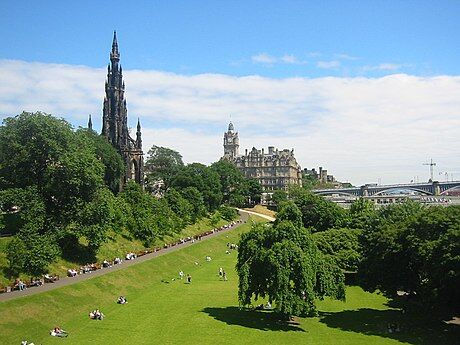 Princes St, Edinburgh EH2 2HG, UK

Beautiful gardens that lie beneath the castle separating the old town from the new town. Definitely worth a stroll.
Edinburgh Festivals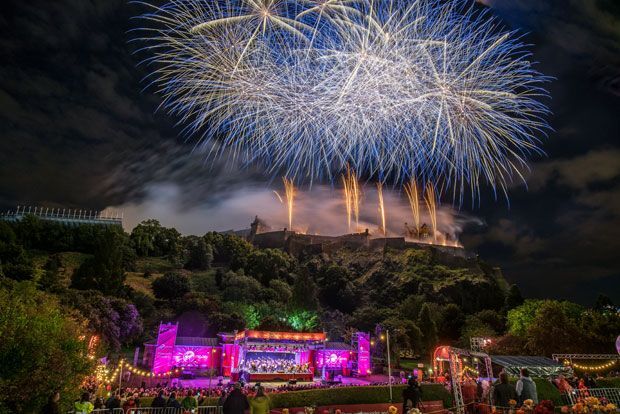 During the wedding Edinburgh will be hosting: Edinburgh Art Festival, Edinburgh Festival Fringe, Edinburgh International Festival, The Royal Edinburgh Military Tattoo, and the Edinburgh International Book Festival. Each as a full program of events, from comedy shows with 10 people in the back room of a pub to the splendor of massed pipes and drums at the castle during the tattoo. One of our favorite things to do is to walk down the Royal Mile during festival time, check out some street performers, have a cocktail and then get swept along to go see a show you know absolutely nothing about!